W HOTELS WORLDWIDE AMPLIFIES DUTCH DEBUT
Starwood Hotels & Resorts Announces Major Extension to Highly Anticipated W Amsterdam, Slated to Open in Autumn 2015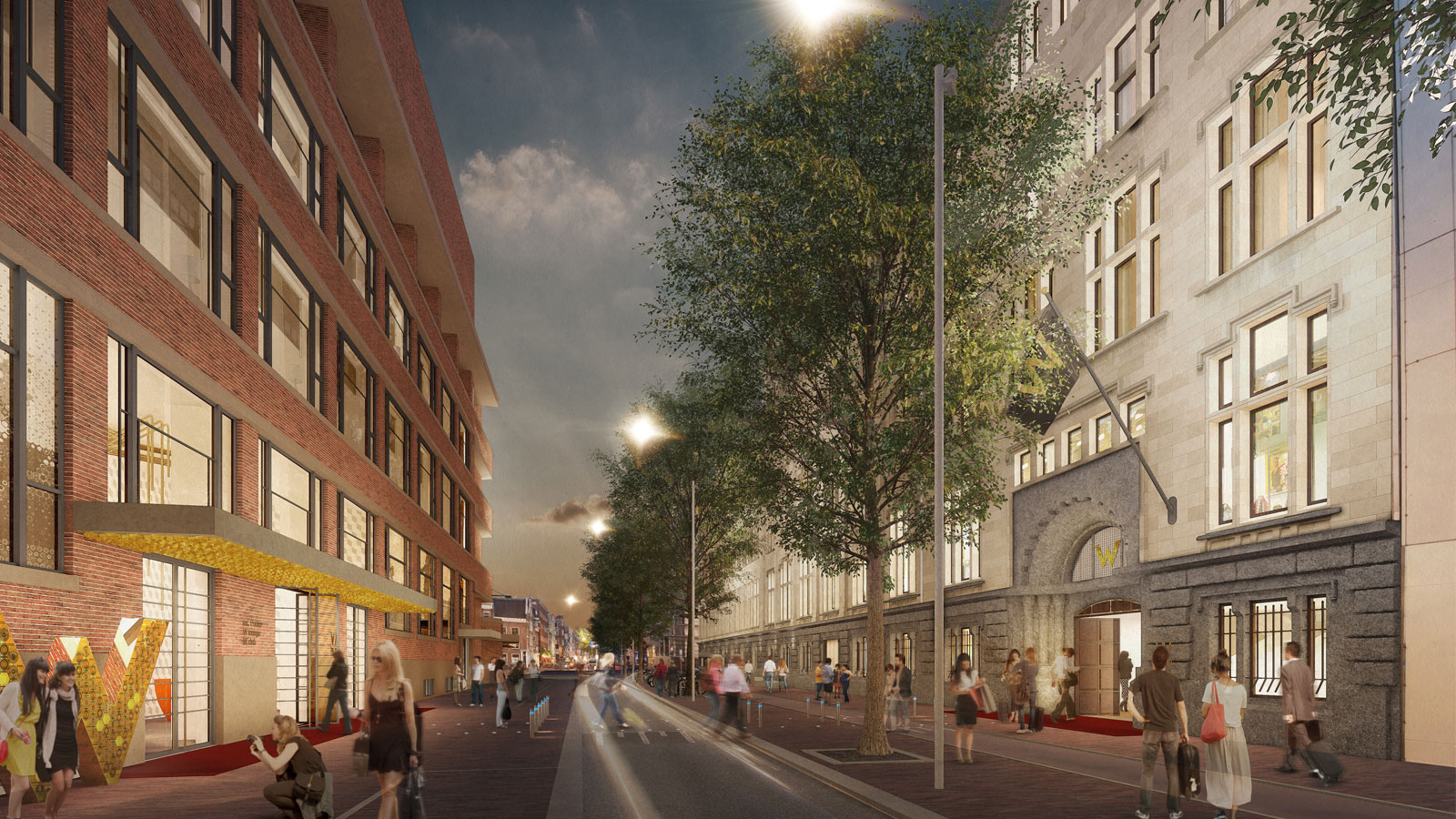 AMSTERDAM – December 4, 2014 – Starwood Hotels & Resorts Worldwide, Inc. (NYSE: HOT) today announced plans to expand the highly anticipated W Amsterdam with the addition of a second building as part of the cutting-edge hotel project. Originally conceived as a single-building property set in a former Telephone Exchange ('Exchange' building) on Dam Square, W Amsterdam, slated for an autumn 2015 debut, will now include the adjacent former KAS Bank building on Spuistraat 172.

The 'Bank' building wil house an additional 66 contemporary guestrooms and suites – many overlooking the famous UNESCO-listed Singel canal – as well as a signature Away® Spa, nightclub and destination bar and restaurant. The Bank building will also include a 'creative incubator' concept space, providing a platform for local talent to showcase their fashion, art and design work and also featuring locally curated products.

"We have been overwhelmed by the interest and demand for W Amsterdam since we announced the project back in February and are thrilled to expand this hotel in partnership with its owner, Liran Wizman," said Michael Wale, President, Starwood Hotels & Resorts, Europe, Africa and Middle East. "The W brand clearly resonates with the Dutch market, and we can't wait to bring the W mix of contemporary luxury to the city when we launch the hotel in autumn next year."

W Amsterdam will mark the launch of the W Hotels brand in the Netherlands and is ideally located just behind the Royal Palace and steps from the city's iconic canal district with its vibrant restaurants, bars and nightlife scene.

Redefining modern luxury with its innovative design, unique programming and buzzing bars and restaurants, W Amsterdam will feature 238 stylish guestrooms across the two buildings, including 25 suites, one WOW suite and two Extreme Wow Suites (the W brand's reinterpretation of the Presidential Suite). Guests will enter the hotel in the Exchange building, where they will be brought directly to the rooftop to chek-in and enjoy a cocktail in the W Lounge (the W take on the
staid hotel lobby where guests can mix and mingle). In addition to the destination bar and restaurant that will be located in the former banking hall of the Bank building, the Exchange will also feature a rooftop bar and restaurant with unrivalled views over Dam Square and the city lights. The restaurants
and nightspots will be managed by The Entourage Group, a specialist restaurant and bar operator setting new standards for the hospitality industry in the Netherlands.

An ideal venue, W Amsterdam will offer 480 square metres of ultra-modern meeting and event space, including two Great Rooms and two smaller meeting rooms, and will also feature FIT® state-of-theart fitness centre and WIRED® 24-hour business centre. Guests will also be treated to the W brand's iconic Whatever/Whenever® service philosophy, providing them with whatever they want, whenever they want it, as long as it's legal. W Amsterdam will also boast a full calendar of exclusive W Happenings that showcase what's new and next in design, fashion and music to guests and localtrendsetters alike.

"I'm thrilled that we have been able to expand the prestigious W Amsterdam project to offer even more world-class facilities for our globe-trotting guests," added Liran Wizman, owner of W Amsterdam as well as of Europe Hotels | Private Collection. "With its contemporary design and innovative flair, there is no doubt that W Amsterdam will set the city alight and become a unique resort in the city for jet-setters and locals to mix, connect and exchange."

Both the Exchange and the Bank buildings will be re-imagined by award-winning practices OFFICE WINHOV of Amsterdam and Tel Aviv-based BK Architecture, including full restoration of historical elements combined with a new, contemporary design.

"Now split across two unique buildings in the very heart of the city, W Amsterdam will be a focal point for trendsetters to explore Amsterdam's take on what's new and next in fashion, design, music and entertainment," said Bram van der Hoek, Managing Director and owner representative of Europe Hotels | Private Collection. "The hotel's cutting-edge design combined with W's innovative lifestyle programming will bring something completely different to the Amsterdam hotel scene."

Following the successful premieres of W Hotels in Istanbul, Barcelona, St. Petersburg, London, Paris, and most recently Verbier, Switzerland, W Amsterdam will become the seventh W Hotel in Europe, joining a portfolio of 45 W Hotels around the world with more than 20 in development.
ABOUT W HOTELS WORLDWIDE
W Hotels is a contemporary, design-led lifestyle brand and the industry innovator with 45 hotels and retreats, including 16 W-branded residences, in the most vibrant cities and exotic destinations around the world. Inspiring, iconic, innovative and influential, W Hotels provides the ultimate in insider access,
offering a unique mix of cutting-edge design and passions around fashion, music and entertainment. W Hotels offers a holistic lifestyle experience that is integrated into the brand's sensibility through contemporary restaurant concepts, glamorous entertainment experiences, stylish retail concepts, signature spas and inspiring residences. With more than 14 years of proven success, W Hotels is on track to reach 60 hotels by 2017. W Hotels have been announced for Milan, Shanghai, Beijing, Bogota, Abu Dhabi, Mumbai, Dubai, Jakarta, Panama, Muscat,Suzhou, Changsha, New Delhi, Kuala Lumpur, and Sante Fe, Mexico, while upcoming W Retreats include Goa and Mexico's Riviera Maya. For more information, visit www.whotels.com or www.facebook.com/whotels. To live the W Hotels lifestyle 24/7/365, visit www.wresidences.com. Follow @WHotels on Twitter and Instagram.
ABOUT STAG EUROPE (GRAFENAU) BV
The developer and owner of W Amsterdam, STAG Europe (Grafenau) BV is a real estate development company, managed by Europe Hotels Private Collection (EHPC), focused on unique, luxury premier hotels, bars and destination restaurants in Europe including Amsterdam.
The Entourage Group
Is a signature turn-key food and beverage service specifically designed for hospitality venues including hotels and other high-end locations across the globe. Our wide range of expertise has been cultivated extensively through years of hotel management, operations and fine dining experience with our international restaurant brands. Collectively, our strengths and experience inspire The Entourage, the new standard of modern hospitality. Currently operating properties include MOMO Restaurant, Bar & Lounge in Amsterdam, IZAKAYA Asian Kitchen & Bar in Amsterdam and The Butcher Amsterdam.